Them Apples Volume 3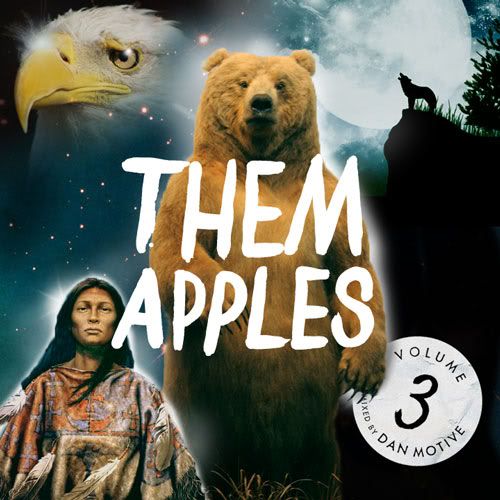 It's been many moons since the last Them Apples but the third volume stands before you.
Look deep within yourself, recall the wisdom of the ancients, summon your power-animal and let it guide your spirit. You will be led to the portal where only those of noble purpose can enter. Fill yourself with the white light of purpose and enter the portal. Welcome to Them Apples Volume 3. 
Them Apples Volume 3 mixed by Dan Motive
Miike Snow - Animal (Mark Ronson version) *
Hall & Oates - Out Of Touch
Lunice - Out Of Touch
Onra - High Hopes feat Reggie B
Big Boi - Shutterbug
Onra - Rock On
Erykah Badu - Jump Up In The Air feat. Lil Wayne
Mary J Blige - I'm The Only Woman
Mayer Hawthorne - I Need You
Rustie & Joker - Play Doe * 
F.L.Y. - Swag Surfin'
Mount Kimbie - Would Know * 
Om'mas Keith & Mark Pritchard - Wind It Up
Aaliyah - Resolution instrumental 
Bibio - Dwrcan (Eskmo remix)
Usher - Lil Freak instrumental
Siriusmo - Atomic Fusion
Flying Lotus - Computer Face / Pure Being
Dorian Concept - Vertical Output 
Martin Brothers - Duck Face
The Very Best - Wena
Radioclit - Secousse (Etan remix)
Boys Noize - Nerve
Crookers - Remedy feat Miike Snow
Siriusmo - Einmal in der Woche Schreien
Big Boi - Be Still feat. Janelle Monae
Gorillaz - Empire feat Little Dragon
Download and be uplifted by this MP4 – behold its cosmic power – it's chapterised for your convenience so you can skip tracks in iTunes or in your phone, pod or player. In iTunes it's command-shift and the left & right arrow keys to skip tracks. so futuristic.